CPhI Biopharma News
The process provides an alternative to the sterilization of cartridges and vials with ethylene oxide (EtO).
Avantor released a packaging platform that allows for the direct dispensing of chemicals—such as salts, buffers, and cell culture ingredients—into processing equipment.
Peer-Review Research
The authors explore the use of precipitation using polyvinyl sulfonic acid and zinc chloride in place of capture chromatography to reduce the cost of goods in the insulin manufacturing process.
The authors evaluate the SoloVPE technique as a replacement for nitrogen-based protein determination.
eBooks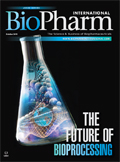 The Future of Bioprocessing
Features in this special e-book supplement examine market dynamics, emerging technologies, and regulatory policy that is shaping the future of bioprocessing. View E-Book
More eBooks
Outsourcing Resources
Secure Single-Use Systems
Analytical and Bioanalytical Testing