CPhI Biopharma News
The process provides an alternative to the sterilization of cartridges and vials with ethylene oxide (EtO).
Avantor released a packaging platform that allows for the direct dispensing of chemicals—such as salts, buffers, and cell culture ingredients—into processing equipment.
Peer-Review Research
This case study reviews how quality-by-design principles can be implemented in an intermediate chromatography purification step that uses cation-exchange chromatography.
Surface plasmon resonance is helping define bispecific antibodies, the next-generation of biopharma therapeutics.
eBooks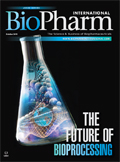 The Future of Bioprocessing
Features in this special e-book supplement examine market dynamics, emerging technologies, and regulatory policy that is shaping the future of bioprocessing. View E-Book
More eBooks
Outsourcing Resources
Secure Single-Use Systems
Analytical and Bioanalytical Testing